On Sale
Warmer Set
Hurry! Quantities are limited. Please order now to ensure availability.
The SoChatti Warmer is a premium, low power appliance that is designed to stay plugged in and uses minimal countertop space. Our elegantly designed warmer keeps your chocolate melted to perfection for instant access to your favorite treat. Enjoy the unique flavors of different cacao origins and ensure your SoChatti chocolate is available to share with friends and family.

SoChatti dark chocolate is 72% cacao and made from only 3 simple, all natural ingredients. It contains no additives, emulsifiers or preservatives. SoChatti is dairy free, soy free, gluten free, nut free, vegan, kosher pareve, and halal.
Ingredients: Cacao nibs, organic cane sugar and organic cacao butter.
SoChatti Warmer set includes:
1 SoChatti Warmer
2 SoChatti chocolate pouches (8oz) and 1 recipe booklet

Each pouch contains 10 servings in a convenient, easy-to-warm, no-mess pouch

Sharing the True Chocolatier's Experience:
Each batch of chocolate inherits unique flavors from the origins of its specific crop of cacao beans. These flavors are what make chocolate one of the most decadent, sought-after indulgences in the world. The full richness and complexity of these flavors can only be truly experienced with untempered liquid chocolate.
Experience Chocolate In a Whole New Way
Enjoy on demand melted chocolate that you care share share with friends and family at any time.
Instant access to your favorite treat.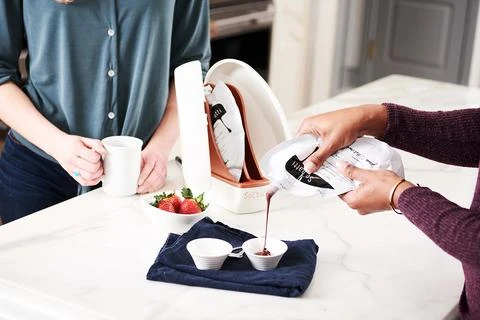 Our elegantly designed warmer keeps your chocolate melted to perfection 24/7.
What Customers are Saying


"The best part is how convenient it is. With the warmer on the counter it's easy to add chocolate to everything."
- Sara Hill
"Absolutely beautiful and classy packaging... it is pleasure to see your product in such eye and heart pleasing style—thank you."
- Mary Burt
"This chocolate is incredible! The on tap chocolate has changed the way I prepare desserts and has ultimately added versatility to my recipes in general. The rich, smokey taste is fantastic. I recently drizzled it over strawberries and marshmallows, sort of like a fondue, and it was great."
- Marissa Ward
"I love this chocolate. I have one of the warmers, so the chocolate is always ready to put on Strawberries, nuts or whatever I choose. It's great for baking. I love all of the flavors."
- E. Foster
SoChatti Warmer Features
Convenient
The warmer ensures your chocolate is always ready to serve.

Durable
Features a magnetic door latch, no slip base, and adjustable cord with a cord storage bay.

Perfect for any space
Available in two colors: Black and platinum or white and copper